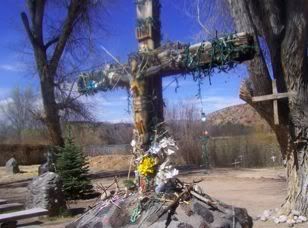 Julie also did some research during Holy Week this year, traveling to Santa Fe for the book she's working on about independent (i.e. non-Roman) Catholics. She writes:
I visited Santa Fe for ten days around Easter to "trail" Archbishop Richard Gundrey, leader of the independent Catholic Church of Antioch, as he went about his Holy Week business.

Independent Catholicism is a small movement comprised of hundreds of little churches that are doing Catholicism apart from Rome. From its base in Santa Fe, Archbishop Gundrey heads an institution that has parishes and other ministries all over the United States, from Los Angeles to Philadelphia. Church of Antioch groups tend to be liturgically "high church," spiritually eclectic, temperamentally mystical, and politically liberal. They ordain and marry women and gay people, and as a priest you can be married. There are lots of other interesting features, but I was there to get a feel for the day-to-day workings of "Church Central." I saw the Good Friday service, Easter Mass, two Wednesday night healing services, two
weddings, and two baptisms.
You can see pictures - and attendant stories, in the captions - of her trip here!